8Pin Bending Double Row Pogo Pin Connectors, wholesale various high quality Spring loaded pins connector products from SUNMON.
Specification of SUNMON 8Pin Bending Double Row Pogo Pin Connectors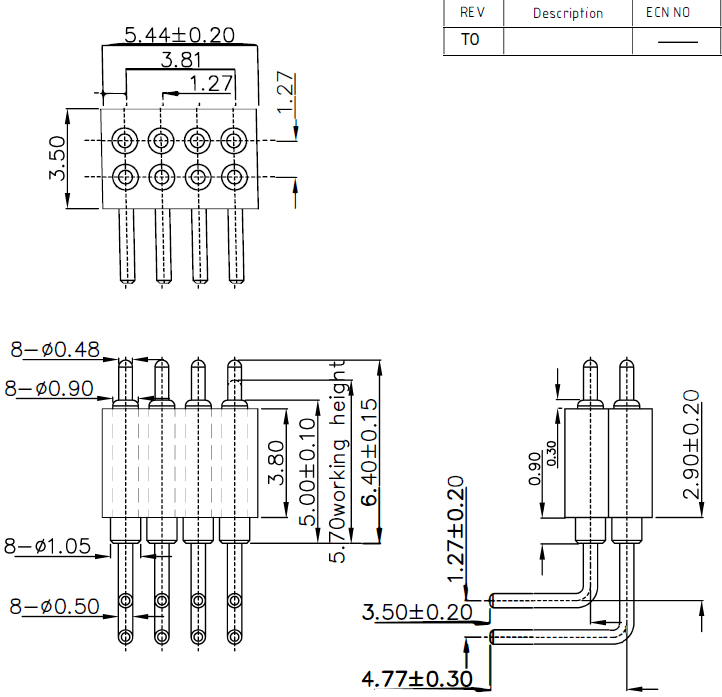 | | |
| --- | --- |
| Part No. | PPM.08-949-0303 |
| Contact force | 0.7mmWorking Store |
| Life test2 | 500,00 cycles |
| Rated voltage & current | 12V, 1A |
| Contact resistance | 50 milliohm Max |
| Application | |
|  Downloaded | Drawing |
Pogo Pin Connectors designed & manufactured by SUNMON can be used in unlimited applications. Below are just a few examples of how the products can be used, please feel free to contact SUNMON for more details.
Consumer electronics products/PCB board
Digital camera/Medical products/ Printer cartridges
Golf handle/ Electric vehicles/ Telephony applications
Cardiac defibrillator/Car charging /Air purifier
LED flat luminaries/LED flash light/Tablet/Laptop/PC
Power bank/ Digital product/ Small household electrical application
Charging products/Signal transmission products etc
SUNMON pogo pin connector advantages
– The magnetic connector consists of magnets at the base of the pogo pin connector and a Ru iron boron permanent magnet to ensure reliable and secure connection of the male and female parts.
– SUNMON was founded on August 25, 2009, and has successively established companies in Mainland China and Hong Kong, China.
– The magnetic connector completes the deficiency of traditional connectors with the advantages of convenient insertion and extraction, safety, compact volume, easy cleaning and lateral pull-out, realizing the functions of 100% automatic positioning, automatic connection, fast insertion and extraction, separation under external force, forced disconnection to protect the connection port from damage.
Solutions
The founder of SUNMON has been engaged in the R&D and manufacturing of pogo pin connectors since 2009, and has accumulated a wealth of technological experience. The mature product structure can meet the requirements of various industries, such as low impedance, high current, long life, lateral contact, etc. To provide customers with the safest and most reliable product solutions is always our pursuit and mission.
About us
SUNMON was established on August 25, 2009, and has successively established companies in mainland China and Hong Kong, China.
The products produced by SUNMON are widely used in consumer electronics: laptops, tablet PCs, smart phones, e-cigarettes, LED lamps, etc. Smart wearable products: smart bracelets, watches, TWS Bluetooth headphones, smart clothing, etc. Smart home, industrial handheld terminal, spaceflight , aviation, medical equipment electronics, automotive electronics, industrial industry electronics, etc.